Posted on | April 16, 2010 | 3 Comments
About a year ago, my friend Lindsay mentioned to me that she knew a gluten-free place around here known as Deliteful Foods. Deliteful Foods caters to many different allergies and those without allergies who want to eat healthy. So we went and I loved it. I remember buying brownie mix. Mmmmm. But I hadn't been there since! So I decided I had going to go back with a bunch of my girlies and see if it had changed or even if it was still open! Of course, their website was still up, so I knew they were open. So here is our adventure to Deliteful Foods in Hamilton, NJ.
Here we are, leaving Rider! Good bye sweet home! My friend, Sam, was kind enough to drive us all over the place. Though her GPS didn't seem to know where Deliteful Foods was and had no record of it's address, we set off with an optimism and excitement that I hadn't felt in a while. I remembered liking this store so much and as Sam has a lactose intolerance, I was really hoping that she'd find some things that she liked.
Not too long after leaving…Sam's GPS got confused. I can't tell you how many times this GPS led us to Route 1 and then the road we were supposed to be on and then back to Route 1. We turned around so many times that I was beginning to feel nauseous, as I do tend to get a little car sick sometimes. Maybe I shouldn't have been taking pictures then! Oh well. I was fine.
Eventually we made it! What a glorious sight to behold!
It even looks cheerful! We were so excited to finally get there after turning around and taking exits multiple times. And look! Here's the best part:
Right on the sign! So we walk in and were greeted by two of the workers there. When you first walk in, you walk into the organic section. It has it's own tasting table where obviously you taste certain products. It was in this section that I found two beverages that I'll keep a secret until I tell you about them in another post.
Keri enjoyed the many natural butters that she found. She's big on peanutbutter and almond butter and all of those. I was never a big fan, but I've been on a bit of a cashew kick so I wonder if cashew-butter might be a good choice for me.
Right next door there's another section of the store. The entire half is filled with gluten-freebies galore. There were all the brands that I had recognized and all the products that I have already reviewed here. The man who works on the gluten-free side was extremely helpful and ready to point us in the right direction if we were looking for anything specific. He told us that the store had just been revamped so that this entire half was safe from gluten.
They seriously had all of my favorite products! I love the Chebe mixes so much. We usually use their cheese bread mix to make those little hotdog appetizers. Plus it's fun to play with the bag since it's a bag of flour mix.
And there was a tasting table! Looking at the products on the table, I found that I had tried most of these products, which made me extremely happy. I feel like I'm really exploring this gluten-free world that I've been forced to live in. I liked knowing that if someone asked me questions, I could tell them brands that were good and brands that were bad. I suggested a gluten-free, dairy-free mac and cheese made by Amy's for Sam and she loved it. I was happy to be able to do that.
Kat enjoyed all the gluten-free chocolate. There was a pretty big display of just chocolate! It made me super happy.
They had a freezer section too with a lot of my favorite frozen goods, like Bell&Evans chicken nuggets. Those are my favorite gluten free chicken nuggets. I just pop them in the toaster oven and wait like a half hour before they're all warm and yummy. They also had dairy free yogurt and ice cream. So those of you with other allergies and intolerances, and who live around Hamilton, NJ, please come and check out Deliteful Foods!
I'm not going to tell you what I bought. Nope, it's a secret. Well, not for too long–if I don't have too much homework in the next couple of weeks. I will, however, show you my happy face after leaving!
Look at how happy I am! And how excited Sam is over her potato snacks. I recommend Deliteful Foods to anyone who is in the Hamilton area. It's really perfect for those of us at Rider University because when you don't get lost thanks to your GPS, it's only a ten minute drive if that. The people who work there are really helpful and there's such a variety of products that you really can't go wrong. Whatever you're looking for, they'll have something useful. For more information on Deliteful Foods, visit them here!
Posted on | April 9, 2010 | 2 Comments
I'm back with the second half of my Easter fun! I'm so sorry this took much longer than I expected to get posted. It's been a terribly busy week here at Rider University what with the Gender Studies Colloquium and whatnot (guess who got asked to speak there). I also have to admit a bit of laziness on my part due to the beautiful weather we've been having. It's so warm out that I want to spend all of my time outside. And Rider is becoming more beautiful too! All the trees are blooming and the tulips have bloomed and allergies are flaring. It's great (and it sucks for people with allergies, which is pretty much everyone in the world except my friend, Mandy). Ideally, I would be doing homework at the moment. Seventeenth Century literature is calling my name (Hooray for Aemilia Lanyer! All Amelias are awesome regardless of name spelling). I think I'm getting off topic. Where was I? Oh yeah…EASTER!
For Easter, we tried two new King Arthur Flour mixes that are gluten free. For more information on these flours and mixes as well as others, please go to http://www.kingarthurflour.com/glutenfree/
The first one we tried was the all purpose flour.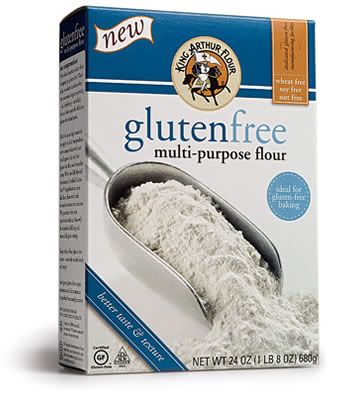 King Arthur's all purpose flour is a blend of white rice flour, whole grain brown rice flours, tapioca starch, and potato starch. Looking at these ingredients, I might be a little sceptical because of the rice flour. Back when I was a wee little celiac newbie, I tried many products that relied heavily on rice flour. Once we even made cookies, just replacing the wheat flour with rice flour. Biggest mistake ever! They were so gritty and…ugh! I'm gagging at the memory of those cookies! I learned my lesson after reading a lot of other blogs (Gluten Free Girl really opened my eyes to a lot of these things since she was the first blogger I really followed, so thank you Shauna!).
I thought it was interesting though because on the page of the recipe, it said,
"Many of our gluten-free recipes use our King Arthur Gluten-Free Multi-Purpose
Flour, which includes ingredients that reduce the grittiness sometimes found in
gluten-free baked goods. Our flour also increases the shelf life of your treats,
keeping them fresh longer."
Hmmm…I don't want to doubt King Arthur because I'm such a fan of their bread mix. Perhaps the recipe just wasn't a good one. I want to try this mix with other recipes and maybe some recipes we make at home instead of those on the website before making my judgement on the product.
So the scones weren't bad. They just weren't absolutely fantastic. I'm still a huge fan of King Arthur Flour.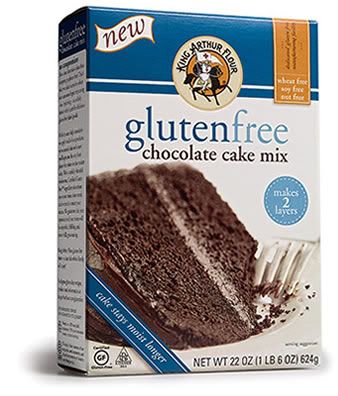 The second product we tried was the King Arthur Flour chocolate cake mix. Now, my mom is a big fan of the Betty Crocker chocolate cake mix. I'm not really big on chocolate cake to be honest. Actually, that's not entirely true. I like the cake part. I'm not a big fan of frosting which has to come with cake. I prefer whipped cream or a glaze. Anyway, we decided to make cupcakes with the mix. I like cupcakes. Small portion of food and cute to boot!
The tops came out a little strange right? They look more like muffins than cupcakes (which is fine because I really kind of sort of like sometimes LOVE muffins).
This is how they looked with frosting. Oh and if you're wondering about the "18″ candles, it was Molly's birthday the day before Easter! My beautiful sister is all grown up! Of course, this is old news. Molly has been grown up for a very long time. But I digress (again)!
When I took my first bite into the cupcake (after getting through the frosting) I could tell this was a good mix. The cupcakes were soft and moist and had a very rich chocolate flavor. We actually ended up arguing over whether or not the Betty Crocker mix was better than the King Arthur mix. Grandma and I are Team Arthur and Mom is Team Betty. So to those of you who actually read this, I challenge you to try both and tell me what you think!
Well, that's all I got as far as Easter is concerned. I hope you all had a really great holiday and a great week (since it has almost been an entire week). I already have a gluten-free adventure planned for the weekend so look foward to another post soon!
Posted on | April 6, 2010 | 3 Comments
Happy Easter! Well, happy day after Easter! Helga and her Lieblings are all decked out for the holiday!
Posted on | March 29, 2010 | 3 Comments
As I've complained about Rider University's dining hall on quite a few occasions, I thought it might be nice to update with some good news about Daly's Dining Hall. Sure, I tend to eat a mountain of french fries each day (though they're not definitely gluten free), but there are some good things, hidden gems that make everything just a little bit easier. And I wouldn't know about any of them if it weren't for my good friend, Keri (Visit her new food blog at http://keribop.wordpress.com/). Every day, when the girls and I are sitting around a table with our pathetic plates of food (I'm not the only one with trouble finding something to eat), Keri shows up with a giant plate that is always some variation of this:
Whenever I decide to make my Keri Plate, I try to add something new to the bunch. I've had success and failure with this and sometimes the spinach and cheese are a little dry after probably sitting out all day (thank you Daly's). Some days I'm not in the mood for my Keri Plate and opt for a mountain of fries. But I'm happy that I have something other than fries to eat all the time. It's definitely nice to have some variation in my life!
I'll add that another good thing about Daly's is the fruit selection they have out for breakfast. Well, technically it's lunch on the weekends but they serve us breakfast food until one in the afternoon so all of the party-goers with hangovers can have a healthy start to their day. I always get some assortment of fruit for breakfast because it is one of the only things Daly's does right. Fresh cantaloupe, strawberries, grapes and pineapple make for a glorious breakfast. It makes my stomach happy and allows me to concentrate well for the rest of the day.
This isn't the best picture, but it really does taste good! Hooray for fruit! I've always been more of a fruit person than a vegetable person. In fact, I've only recently gotten into eating vegetables (again, thanks to Keri). So I'm doing alright as I am right now. Every once in a while I feel ill from unavoidable cross-contamination, but it's getting better. Only a month and a week or two left before I'm home for the summer and completely gluten free for the rest of my life. I never purposefully cheat my g-free diet, but dining halls mean unsafe plates and silverware and pots and pans. So now that I know I'll have a kitchen next year, you will all have a happier, healthier and more G-Free Miel. But for now, I'm doing the best I can!
Love you,
Miel
Posted on | March 29, 2010 | 1 Comment
Hello to all you lovely gluten-free ladies (or gents who might want to invest in some gluten free makeup for a lady friend). A couple of posts ago, I mentioned Afterglow Cosmetics, a makeup brand that uses all natural ingredients (as well as gluten-free ingredients) to make all of their makeup! The first three lipsticks that I purchased were a big success! Kiss was probably the favorite of most of the people I asked since it was that bright red and maybe a little risky. It's really noticeable, I guess. I just have to make sure not to get it on my teeth! That's not too attractive, right? My lovely friend, Kat, is always telling me I have lipstick on my teeth! Good thing I carry around my handy dandy Frida Kahlo mirror.

Anyway, since I loved the lipstick so much, I actually asked for more of them for Christmas this year. My new favorite is called Afterglow after their brand name. It's a nude color that is perfect for everyday use. It's not stark or noticeable like Kiss, but it's a nice way to even out the color of my lips, which are usually pale and sort of flat looking. I keep it in my purse at all times now because it's a great backup to have on hand! Like the others I've already blogged about, it goes on smoothly and lasts all day. I might have to reapply after lunch because of my own inability to eat without making a mess of myself. Otherwise, it would last all day.
I also decided to try the mineral foundation and concealer, as well as their Kabuki brush, which is in the picture above. The Kabuki brush comes with a little purse in which to store it before and after use. Afterglow Cosmetic's doesn't test any of their products on animals and all of their brushes are vegan brushes. The brushes can be cleaned with shampoo or soap so they're easy to maintain. But if you want to go the extra mile, Afterglow also sells a brush cleaning formula that smells like lavender! I'd buy it, but I think I'd fall asleep after putting makeup on if my brush smelled like lavender.
The Organic Mineral Foundation I use is called Pearl, which, of course, is the palest shade they have. There are nineteen other shades, so many skin tones are accounted for. On the website, ingredients are listed front and center so there aren't any mysteries. I know we don't tend to ingest our foundation, but you never know how much we absorb from our skin. So it isn't a bad investment! The first time I put on this product, I fell in love! It's smooth and light. I know they always say this on commercials, but it seriously felt like I wasn't wearing any makeup at all. It looked really nice with my pale skin too.
The Organic Total Cover Concealer I bought is called Linen which is advised to go along with Pearl. I use this before applying the foundation just to cover up any blemishes I might have (some days there are quite a few). Just like the foundation, it is soft and light and gets the job done.
This is what all three look like together along with black ULTA eyeliner and Loreal Paris Voluminous Original mascara. Sorry I couldn't get a better picture! We don't get a lot of natural light in my dorm room. But you get the gist! So I'm once again completely ecstatic about Afterglow Cosmetics and all of their products. So go visit their website at: http://afterglowcosmetics.com/
Posted on | March 26, 2010 | 3 Comments
Something that always bothered me about being gluten free was the inability to find bread worthy of a good sandwich. Everything I tried had to be toasted and sometimes I wanted a soft, yummy sandwich. But thanks to King Arthur Flour's new gluten-free bread mix, I have found exactly what I'm looking for! A big thanks goes to my mom and grandma who buy me this stuff and make it for me! Grandma was the one to find it this time around. Since she's also gluten-free, she got to take some of the finished product home with her.
Of course, since I'm completely inept at anything to do with cooking, I let my mom worry about that. She was super excited to try it! And so she made the dough and did everything and shoved it in the oven. And we waited. And waited. I don't think it was actually that long. I was so hungry and I didn't want to eat anything until I had tried this bread. And then, it was finally done!!!!
Here's our results:
Let's get a closer look, hmm?

Bread! Oh, it was so beautiful! My mom knocked on the top of it to hear the hollow sound it made. Mmmm…I couldn't wait to eat it! But then, I had to wait for it to cool. This was even more torturous! The whole kitchen smelled like fresh, REAL bread and I couldn't eat it! I stared at it for a really long time, as though my intimidating look might make it cool faster.
Of course, it eventually was cool enough. So I grabbed my bread knife (the one specifically for me), and sliced into the bread. How glorious it felt!
It looks good right? It was still warm and fresh and once I cut it, the whole house smelled like it! I contemplated just eating the bread by itself just because it smelled so good! I hadn't smelled real bread for so long, and when I had, it wasn't for me. It was for gluten-eaters. Well, now it was mine! There's something so victorious about eating good bread nowadays. Of course, I love everything my mom and grandma make for me. But bread. Bread! It's a main food in most people's lives, but it's so precious to those of us who can't have gluten. This was amazing. I raved about this all throughout my spring break. And I hugged my mom forever for making it for me.
The first two pieces I had with butter. Since the bread was still warm, it melted so perfectly. The first bite I took almost brought me to tears. It was soft and warm and reminiscent of something I hadn't tasted in a terribly long time. I almost felt like I was cheating my gfree diet it was so good!
So I had to have more! This time I put my mom's egg salad on top! My mom happens to make the best egg salad in the entire world. I actually can't eat anyone else's. I'm eventually going to learn how to make it just like her because I need it in my life. I'll make it in giant proportions when I have a kitchen next year. That way I can eat it all the time! Ooh, now I can't wait to have my own kitchen at school! But that's besides the point I guess. Anyway, this was the second half of my extremely pleasing meal:
It was really good with egg salad! I definitely recommend it. I also had it with cream cheese which was awesome.
Now, it says to keep the bread or freeze it within three days. What we did was to wrap it in foil and stick it in the fridge. The next day, I tried it out to see how it stayed. After toasting it, it was still really good. Of course, it's always going to be better when you first make it, but that goes for most foods, with or without gluten. So I was completely satisfied with my King Arthur Flour experience. I think I'll try Schar's white bread mix soon. I'm curious to see how they all are. King Arthur's is definitey one that I'll be having again soon though!
Posted on | March 26, 2010 | No Comments
Well, I know I haven't blogged for a while, but I'm back! I'm really excited and inspired because we recently had premium housing here at Rider University. All of my friends are finally on the same side of campus! And three other girls and I got an apartment with a kitchen! This means I'll finally be cooking my own gloriously gluten free food. I'll finally be healthy while I'm at school!
With this new inspiration I changed both the name of my blog and my username. No Such Thing As a Gluten Freebie was just too negative and frankly, untrue. I've found plenty of delicious gluten freebies that are easy and convenient. So now it's just called "Gluten Freebies."
My username changed because I don't feel like a casualty anymore. I'm just gluten free. But that doesn't make a good username! So GFree_Miel is my new name. Miel is pronounced like "Meal" so it's quite good right? It tends to be a nickname, the only real way of shortening my name. So I thought it fit. So altogether I'm feeling more positive and hopeful for the future! I just have to get through this last semester without my kitchen! The girls and I are super excited to go buy silverware and plates and pots and pans and TABLECLOTHS! It's going to be great!
Expect another post soon! Hope everyone's doing as well as I am!
-Miel (haha maybe I'll start signing off this way instead of Amelia)
Posted on | October 14, 2009 | 1 Comment
So over the weekend, two of my bestest friends in the whole entire world (Kat and Laura) decided that we had to go on what was the first of hopefully many trips to Philadelphia. Laura, my roomie, needed supplies for her painting class so either way the trip had to be made. Being the big dorks and literature buffs that we are, we just had to visit the house of Edgar Allen Poe. We hid in his closet and took pictures. It was awesome!!!!!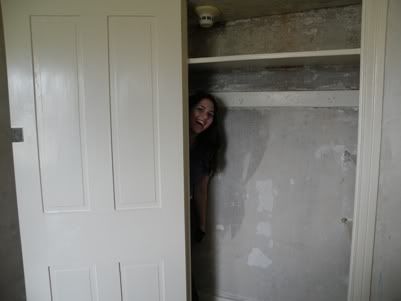 Here's Kat!!!

And here's Laura!!!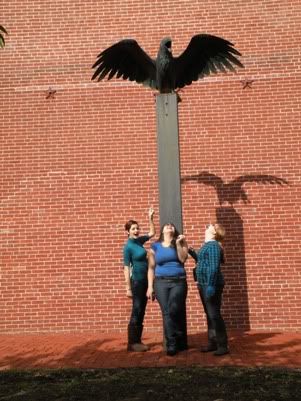 And here we all are with the raven!!!
Afterwards, we went to Blick (spelling?) which is the best art store I've ever seen. There was so much that I wanted to buy, but I refrained for I have more important things to purchase (like colored contacts for my Edward Cullen Halloween costume…that's right; be excited). However, it was great to peruse through the store.
Before leaving, we stopped by Naked Chocolate which has the most amazingly beautiful chocolate I've ever seen! As much as I wanted everything, it was very pricey so again, I kept my money to myself. It was still great to see the chocolate being made and formed to perfection.
Also, on a side note, we found this really cute sticker at a bus stop and I really want it.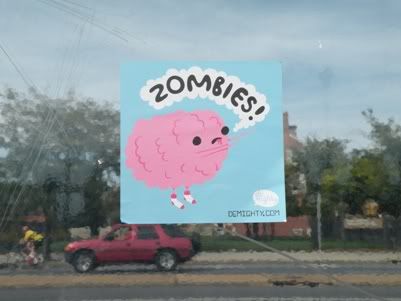 After our trip to Philly, we all headed back to New Jersey and hung out at Joe's house for a while. His mother was kind enough to make us all dinner and made sure that everything was safe for me to eat (everything but the gravy, which I was perfectly fine without). I regret to say that I didn't take any pictures of the delicious food prepared by Mrs. Hocker, but I wanted to mention how delicious it was. We had chicken, mashed potatoes, carrots and applesauce. And strawberries with homemade whipped cream (some of which we brought back to Rider so we could snack later on). Now I'm quite spoiled though and find no delight in the food at Daly's. Still, it was worth it. I wonder what Mrs. Hocker is making this Sunday…
Posted on | August 20, 2009 | 4 Comments
I know most of the gluten-free blogging world likes to refrain from packaged gluten-free snacks found in food stores and stick to cooking everything themselves, but not everyone has the time or resources to do so. Being in college, I like to stock up on snacks for my dorm room. So, in spirit of the upcoming semester, I'm going to write about my favorite snacks and easily stored gluten-free goodies. These are live-savers when it comes to school, for our dining hall can only supply me with so much. Beyond a doubt, my favorite company for these snacks is Schar. Schar products are made in completely gluten-free factories so there's no chance of cross contamination. There are also some products that are lactose free. Everything is clearly labeled, so there's no confusion.
Originally, Schar was a European brand, but they now have a branch right here in New Jersey! Isn't that convenient? I always read about gluten-free festivals and opprotunities on the west coast or the midwest. Finally, there's something in New Jersey (Lyndhurst, NJ to be exact)! So many food stores throughout New Jersey carry these products. I've found some at various health foodstores here in Toms River, and at Wegman's. So those of you in New Jersey who follow a gluten-free diet have a reason to rejoice! Schar is here!
Most importantly (besides the food being gluten-free, of course) the products are delicious! I'm still trying out a few of them–I haven't gotten to the mixes yet–but some of the snacks are the best I've had so far! I have a couple products that I'll share with you today.

These are Schar's gluten-free table crackers. These are even great to eat by themselves! They're crunchy and smooth, not gritty or too hard! They do have a tendency to fall apart and crumble easily, but we can overlook that. In fact, the best way to use these crackers is to put them in soup. I always get this white cheddar and broccoli soup from Wegman's and they go perfectly with it. You might want to find a sturdier cracker for a cheese spread, unless you don't mind the mess!

My second product is Schar's gluten free Italian breadsticks. These are a little better at staying together than the table crackers and have the same, wonderful crunch. I usually eat these with a brie spread because they manage not to fall apart while I'm dipping. My mom and I also had this habit–long before I was gluten-free–of scraping a stick of butter with bread sticks. If you have the same habit, I suggest you let the butter warm up a little. They aren't quite sturdy enough to handle cold, hard butter.
These gluten-free cocoa wafers actually weren't as great as Schar's other products. However, I think they're worth mentioning. There are two other flavors (vanilla and hazelnut–Keri, you might like the hazelnut) but I have yet to try them. The reason I tried these at all was because I missed KitKats. These taste nothing like Kitkats, but they were pretty good. Anyone who's a fan of wafers won't find a difference between those with gluten and these. I guess I'm just not much of a wafer person.
These, by far, are my FAVORITE packaged gluten-free cookies in the ENTIRE WORLD. Of course, they can't compare to homemade cookies, but they're great to munch on. I just finished a box of them actually–which was what inspired this post. They're yummy, crispy cookies with dark chocolate on the bottom. Normally, I'm not much of a dark chocolate fan. It's usually too bitter for me. However, the cookies really mellows it out, making it a perfect mixture. I can easily finish a whole box of these in one sitting. I'm thinking of trying them with milk next time. I haven't had a cookie dipped in milk since my last Oreo.
Well, there you have it. Keep in mind that Schar has a multitude of products from pastas to white bread mixes. Stocked in our pantry right now are Schar's gluten-free pizza mix, gluten-free white bread mix, gluten-free shortbread cookies and gluten-free tagliatelle pasta. I hope to try all of them before the end of summer. I can't wait to bring some of these snacks back to school with me. Watch out, roomie. Our room will be filled with Schar's gluten-free chocolate-dipped cookies!!!!
If you want more information on Schar, like their history and other products, go to the website: http://www.schar.com/us/
Posted on | August 17, 2009 | 2 Comments
A couple of weeks ago, I started to notice that despite my being on a strictly gluten-free diet, I'd been getting stomach aches when I ate anything. And I mean anything. I started to wake up without breakfast, having something small for lunch and usually skipping dinner just to escape the daily nightmare that became my stomach. Of course, I wondered what could possibly be the cause of all this pain and cramping, knowing that I hadn't eaten anything bad. When I'm home for the summer, I'm very careful about what I eat. I rarely go out to restaurants and I usually plan what I'll eat in my head the night before. So it made no sense that I would be contaminated. I wasn't at Rider, so I couldn't blame Daly's for the discomfort. I wracked my brain for days to figure out what was causing this problem.
You want to know what it was? Medicated chapstick. Now, I've been on forums that have said that all Chapstick products are gluten-free, but ever since I started using chapstick again, my stomach began acting up. Others also claimed to have had a problem with chapstick in the past. I guess it depends on how sensitive you are. But I found that as soon as I switched to Burt's Bees, my stomach went back to normal (or what's considered normal to us Celiac sufferers). So, for those of you who are rather sensitive, don't underestimate the power of switching lip balms.
So, this made me start thinking about the other products I used on my lips (and even the rest of my face). Makeup is very ambiguous when it comes to ingredients and what's safe for those with Celiac Disease. Of course, I'm not the first to worry about this. In fact, when I was flipping through a Living Without magazine, I found the ad for Afterglow Cosmetics. I read everything on their page that I could find to learn more about their products. They are talc free, nut free, GMO free, gluten free, carmine free, bismuth free, paraben free, lake dye free, FD&C dye free, cornstarch free, mineral oil free, nano free and petrochemical free. Do I know what most of those are? Nope, but I know that it means this makeup is all natural. As an added bonus, the website assures customers that their products are never animal tested. So I started looking through their online store, having been in need of some new lipstick. You see, I never really wore lipstick. I never thought I could pull it off really. But I've been experimenting a little bit lately. So I bought three lipsticks: Innocent, Kiss, and Adore. Besides those, there are plenty of beautiful colors for all sorts of complexions.
After trying out the three lipsticks, I found them to be smooth and easy to apply, long-lasting and comfortable to wear throughout the day. I loved all three of the colors I bought and recommend them to anyone that might have the same paleness as me. I also have this fear of lipstick making my teeth look yellow, but none of these seemed to have done so. I was very happy.
The first lipstick I tried was Innocence. I loved how natural it looked. I could wear it just to hang out somewhere casual or to go somewhere a little fancier. Take a look for yourself: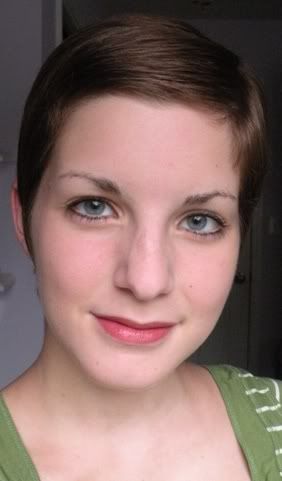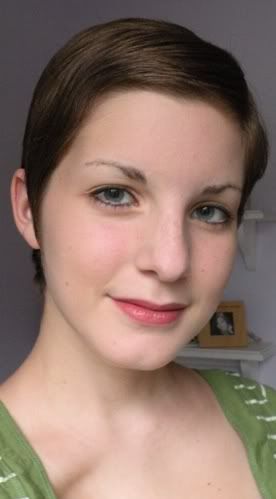 The second one, called Kiss, was my favorite because it was a real gamble for me. I never thought I'd be able to pull off red, red lipstick. I always admired people who could (like my sister, Molly, who can pull off anything she wants). I was pleasantly surprised to find that this color wasn't too overwhelming, but just the right amount of red.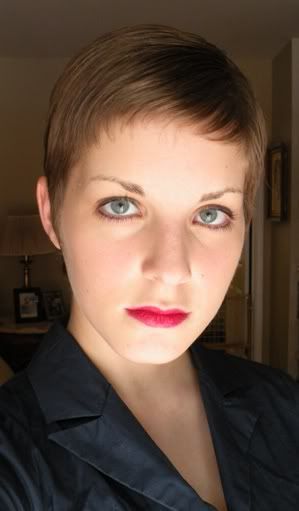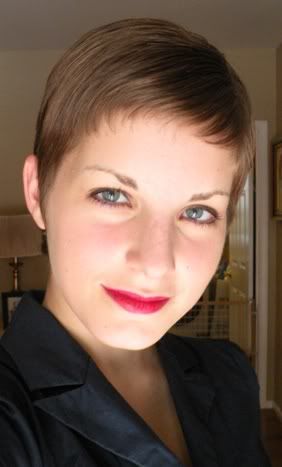 The last of my new lipsticks, Adore, was also pleasantly natural looking, but added a nice shimmer. I love it! It's something I could wear everyday.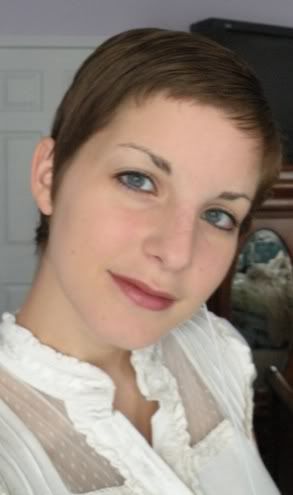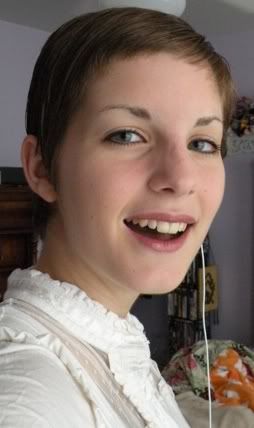 Now that you've gotten to see my pretty face with pretty lipstick, go buy some for yourself! It's a bit expensive at about twenty-five bucks a pop, but for those with a gluten-intolerance, it's worth it. Besides, everything else we buy is more expensive than the norm anyway. Why not splurge on natural, gluten-free lipstick? Afterglow Cosmetics also has a large array of products, so take a look!
« go back
—
keep looking »