Posted on | December 2, 2008 | 3 Comments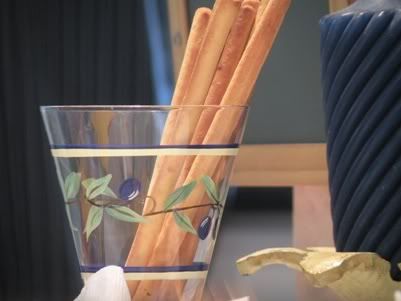 (These are Schar's Gluten-Free Breadsticks! They're quite good!)

Tis the season to eat gluten! Am I right? I mean, come on! Stuffing? Gravy? Pie? And in my family, Manicotti? For those of you who just had your first gluten-free Thanksgiving, I assure you that it gets easier the second time around. Well, it did for me anyway, with much help from my terribly understanding Mother and my now gluten-free Grandma. They're both great. See, I can't cook for my life! That, of course, will be changing during the upcoming winter break. Regardless, it would be completely impossible for me to live a gluten-free life without their guidance and encouragement. Thanksgiving was no different. So, with G-ma's permission, I've decided to post two recipes: Gluten-free Stuffing and Gluten-free Manicotti! Enjoy!!!
Gluten-Free Stuffing

Note: Grandma made this generic recipe though she usually just wings it. Please feel free to add or take away whatever you'd like. But trust me, this was delicious!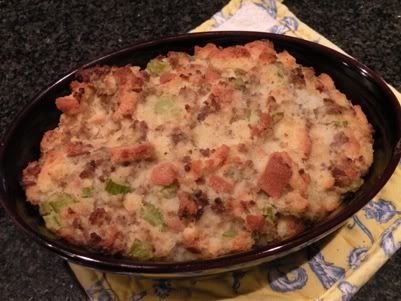 1 pork sausage (such as Jones)
1 loaf gluten free white bread (I used Shar)
1 medium onion, minced
3 stalks celery, chopped
3 eggs, beaten
2 teas Bells seasoning
salt and pepper
milk or water
Oil
Cube bread into about 1/2 inch cubes, put in large bowl. Set aside.Fry and break up the port sausage. Drain and set aside. Add 2 TBS oil to fry pan and saute onion and celery, salt, pepper and Bells seasoning. Saute on medium until onion is translucent.
Add sausage, onion and celery mixture and eggs to cubed bread. Mix together, adding milk or water as needed. The mixture should be fairly soft. (I want to say mushy), Put in baking pan and bake for about 1 hour at 350 degrees.
Gluten-Free Manicotti
Note: This doesn't include the recipe for sauce. You can either make your own sauce or buy one.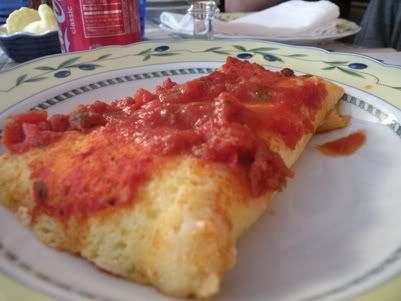 Crepe shells as follows:
3 large eggs
1 cup gluten-free all-purpose flour
salt
1 TBS oil
cold water
In blender-mix 3 eggs, salt, oil til blended. Add flour, blend and add in water through the opening to make a thin batter. It should be a little thicker than heavy cream.
Heat crepe pan or non-stick pan and coat with a little oil. Pour enough batter (about 1/3 cup) to coat the bottom of the pan. Tilt the pan to cover the bottom. Cook till bubbles appear on crepe. The bottom should be a light brown. Turn and cook the other side briefly. Turn out on parchment paper. Makes about 9 crepes.
Filling:
1 16 oz. container part skim ricotta
1 cup shredded mozzarella
1/3 to 1/2 cup grated locatelli romano cheese
1 egg
salt & pepper
Mix all above ingredients together.
Assemble Manicotti:
Spread thin layer of spaghetti sauce on bottom of baking dish. Put filling in the middle of the crepe, fold edges over. Lay in baking dish with seam side down. Fill all crepes. Spread thin layer of sauce over manicotti, sprinkle with a little grated cheese, if desired. Bake about 30 minutes in 350 degree oven.
There you have it! Two yummy recipes to start off the season! It is possible to have a gluten-free Thanksgiving, even if it takes you a few years to perfect. Thank you, Mrs. Vairo, for these delightful recipes. Hope everyone had a great Thanksgiving!!!
Comments