Posted on | April 9, 2010 | 2 Comments
I'm back with the second half of my Easter fun! I'm so sorry this took much longer than I expected to get posted. It's been a terribly busy week here at Rider University what with the Gender Studies Colloquium and whatnot (guess who got asked to speak there). I also have to admit a bit of laziness on my part due to the beautiful weather we've been having. It's so warm out that I want to spend all of my time outside. And Rider is becoming more beautiful too! All the trees are blooming and the tulips have bloomed and allergies are flaring. It's great (and it sucks for people with allergies, which is pretty much everyone in the world except my friend, Mandy). Ideally, I would be doing homework at the moment. Seventeenth Century literature is calling my name (Hooray for Aemilia Lanyer! All Amelias are awesome regardless of name spelling). I think I'm getting off topic. Where was I? Oh yeah…EASTER!
For Easter, we tried two new King Arthur Flour mixes that are gluten free. For more information on these flours and mixes as well as others, please go to http://www.kingarthurflour.com/glutenfree/
The first one we tried was the all purpose flour.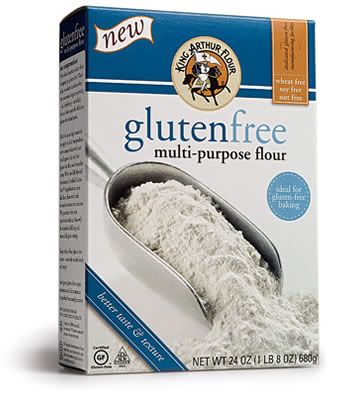 King Arthur's all purpose flour is a blend of white rice flour, whole grain brown rice flours, tapioca starch, and potato starch. Looking at these ingredients, I might be a little sceptical because of the rice flour. Back when I was a wee little celiac newbie, I tried many products that relied heavily on rice flour. Once we even made cookies, just replacing the wheat flour with rice flour. Biggest mistake ever! They were so gritty and…ugh! I'm gagging at the memory of those cookies! I learned my lesson after reading a lot of other blogs (Gluten Free Girl really opened my eyes to a lot of these things since she was the first blogger I really followed, so thank you Shauna!).
This is how they look! They smelled really good when I opened them up. I have to admit that I never had a scone prior to my gluten free days so I'm not exactly an expert on scones. I can't give really good feedback since I have nothing to which I can compare it. So I let my mom who isn't gluten free give it a try. She said the taste was good, but the texture was a bit gritty, just as I'd feared. My grandma said the same thing. I tried one and indeed it was gritty. It wasn't terrible like those cookies that I couldn't stomach.
I thought it was interesting though because on the page of the recipe, it said,
"Many of our gluten-free recipes use our King Arthur Gluten-Free Multi-Purpose
Flour, which includes ingredients that reduce the grittiness sometimes found in
gluten-free baked goods. Our flour also increases the shelf life of your treats,
keeping them fresh longer."
Hmmm…I don't want to doubt King Arthur because I'm such a fan of their bread mix. Perhaps the recipe just wasn't a good one. I want to try this mix with other recipes and maybe some recipes we make at home instead of those on the website before making my judgement on the product.
So the scones weren't bad. They just weren't absolutely fantastic. I'm still a huge fan of King Arthur Flour.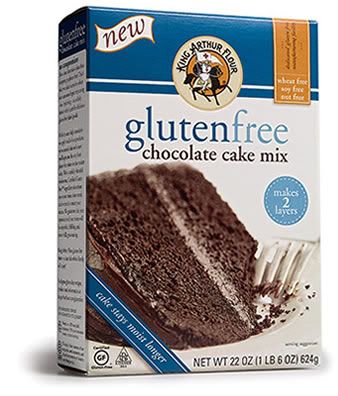 The second product we tried was the King Arthur Flour chocolate cake mix. Now, my mom is a big fan of the Betty Crocker chocolate cake mix. I'm not really big on chocolate cake to be honest. Actually, that's not entirely true. I like the cake part. I'm not a big fan of frosting which has to come with cake. I prefer whipped cream or a glaze. Anyway, we decided to make cupcakes with the mix. I like cupcakes. Small portion of food and cute to boot!
The tops came out a little strange right? They look more like muffins than cupcakes (which is fine because I really kind of sort of like sometimes LOVE muffins).
This is how they looked with frosting. Oh and if you're wondering about the "18″ candles, it was Molly's birthday the day before Easter! My beautiful sister is all grown up! Of course, this is old news. Molly has been grown up for a very long time. But I digress (again)!
When I took my first bite into the cupcake (after getting through the frosting) I could tell this was a good mix. The cupcakes were soft and moist and had a very rich chocolate flavor. We actually ended up arguing over whether or not the Betty Crocker mix was better than the King Arthur mix. Grandma and I are Team Arthur and Mom is Team Betty. So to those of you who actually read this, I challenge you to try both and tell me what you think!
Well, that's all I got as far as Easter is concerned. I hope you all had a really great holiday and a great week (since it has almost been an entire week). I already have a gluten-free adventure planned for the weekend so look foward to another post soon!
Comments