Posted on | October 14, 2009 | 1 Comment
So over the weekend, two of my bestest friends in the whole entire world (Kat and Laura) decided that we had to go on what was the first of hopefully many trips to Philadelphia. Laura, my roomie, needed supplies for her painting class so either way the trip had to be made. Being the big dorks and literature buffs that we are, we just had to visit the house of Edgar Allen Poe. We hid in his closet and took pictures. It was awesome!!!!!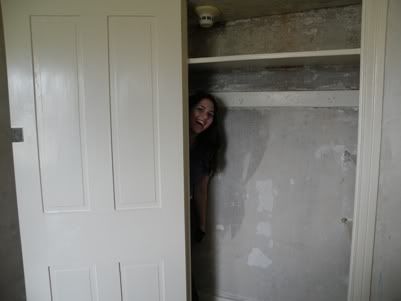 Here's Kat!!!

And here's Laura!!!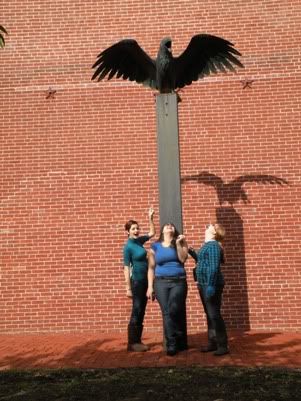 And here we all are with the raven!!!
Afterwards, we went to Blick (spelling?) which is the best art store I've ever seen. There was so much that I wanted to buy, but I refrained for I have more important things to purchase (like colored contacts for my Edward Cullen Halloween costume…that's right; be excited). However, it was great to peruse through the store.
Before leaving, we stopped by Naked Chocolate which has the most amazingly beautiful chocolate I've ever seen! As much as I wanted everything, it was very pricey so again, I kept my money to myself. It was still great to see the chocolate being made and formed to perfection.
Also, on a side note, we found this really cute sticker at a bus stop and I really want it.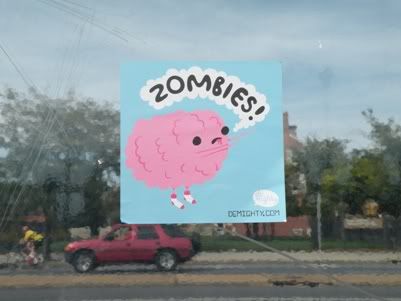 After our trip to Philly, we all headed back to New Jersey and hung out at Joe's house for a while. His mother was kind enough to make us all dinner and made sure that everything was safe for me to eat (everything but the gravy, which I was perfectly fine without). I regret to say that I didn't take any pictures of the delicious food prepared by Mrs. Hocker, but I wanted to mention how delicious it was. We had chicken, mashed potatoes, carrots and applesauce. And strawberries with homemade whipped cream (some of which we brought back to Rider so we could snack later on). Now I'm quite spoiled though and find no delight in the food at Daly's. Still, it was worth it. I wonder what Mrs. Hocker is making this Sunday…
Comments